Just Fore Fun Golf Simulators - Available before or after regular hours by reservation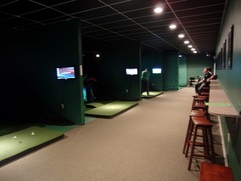 We have 3 State of the Art, high definition, indoor golf simulators. You can play any one of 69 beautiful, world class golf courses. Play alone or with others, you can customize your round: sun, rain, wind, adjust course conditions. Have a one day tournament with your friends: match play, scramble, closest to pin, farthest drive contests, or simply use the driving range mode and analyze your swing, dial in your club distances, or practice chipping and putting.
---
TruTrac
Shot statistics that are reported include:
distance, swing speed, ball speed, face angle, path in-out or out-in,
degree offline, launch angle descent angle and more.
---
Rates

Rates are $25/hour to play 9 or 18 holes, or driving range mode. One person should average playing 18 holes in less than one hour. Tennis shoes are recommend; golf shoes are not required. We require that clubs be clean and the balls used are free of marks (personal marks, putting lines) as they will transfer onto the screen.
---